Skinny Jeans

Mini Skirts

Confidence

Crop Tops

Bikini

Satisfaction

Mental Health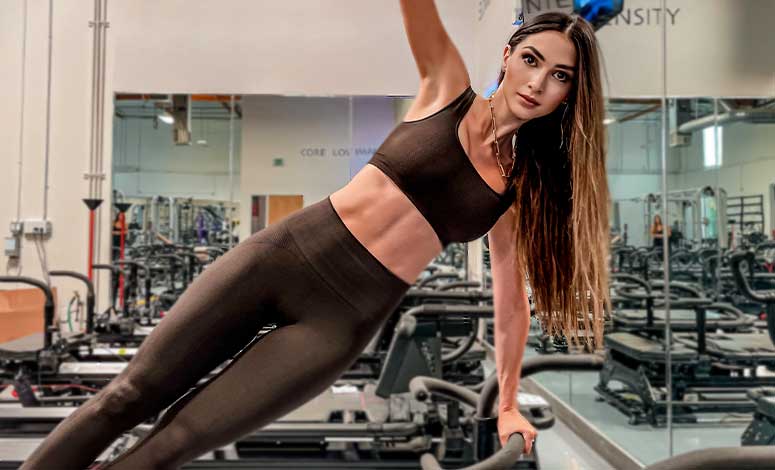 The Lagree method is a high-intensity and low-impact workout that is adaptable to all fitness levels. It effectively combines resistance, endurance, core, and cardio training to safely stimulate strength, flexibility, and balance with little to no impact on the body. It is appropriate for all fitness levels.
Lagree Fitness is a total-mind/body workout that strengthens the body and promotes fat loss without bulking up the muscles and forces a neuromuscular adaptive response which may cause a change in the brain structure. In addition, LF restores the body's natural alignment and balance. The method is both intense and therapeutic: Two benefits are rarely seen in the same workout; it is both fire and water.
Our Classes will leave your muscles shaking, your body leaner, stronger, and fitter than ever. We provide hands-on instructions and expert routine programming done on a patented mega-machine called the Megaformer™ M3K+. The Megaformer uses a system of springs and pulleys to work your entire body with adjustable resistance.
The Megaformer allows you to transition quickly and smoothly from each move while continuing to increase the heart rate and get the blood pumping. With each class, the physical focus will be on targeting each and every muscle to create muscle fatigue to sculpt strong, powerful, and lean bodies while in a safe and controlled environment.
At MegaFit by Lagree, we offer 45-minute full body and complete functional fitness workout classes. This class targets your upper body, lower body and core designed for both men and women.


We Are Located At:
1413 1/2 W Kenneth Rd. Glendale, CA 91201
We Are Located At:
1413 1/2 W Kenneth Rd. Glendale, CA 91201
Private Classes

Coming Soon
Private group classes are available by appointment - and are ideal for those with specific physical goals or constraints, athletic teams, corporate business employees, and hosting fitness parties.
This error message is only visible to WordPress admins
There has been a problem with your Instagram Feed.
NO-SHOW & CANCELLATION POLICY
CANCELLATIONS
Single Class and Class Packages
You must cancel your class at least 8 hours prior to class start time in order to unreserve your spot and return it to your account
Unlimited Memberships
If you cancel your class less than 8 hours prior to class time, you'll be charged $15 on the credit card on file.
NO-SHOWS
Single Class and Class Packages
If you do not show up to class and do not cancel, your class credit will still be deducted from your account and a $20 fee applies.
All no show fees will automatically be charged on your credit card on file.
Unlimited Memberships
If you do not show to the class and do not cancel a $25 fee applies
All no show fees will automatically be charged on your credit card on file.
*Canceling can ONLY be done online through your account or through our mobile app (link our app here). We do not take cancellations through email or over the phone.
STUDIO POLICY
Please arrive at least 5 minutes before the start time of class. If it's your first time, please arrive at least 10 minutes before the start of class to receive information and instructions. Our trainers are required to provide instructions/information to new members. If you are late, you will be turned away for safety reasons. Grip socks are mandatory for all classes. We offer them for sale in the studio or you may bring your own. Please be on your Megaformer by the start of class. Please turn off the sound of your phone and put it away during class. You must be 18 years old to practice Lagree alone, and 14 with a parent/legal guardian present. Our studio only accepts credit/debit cards, we do not accept cash payments. You must have a card on file in your account to sign up for classes or purchase items at the studio.
EXPIRATION
All Single Classes & Class Packages expire 6 months from the purchase date. We do not offer extensions for any reason. For any medical issues, please contact the studio directly.
REFUND & TRANSFER POLICIES
We do NOT offer refunds on any Single Classes, Class Packages, Memberships, or apparel and merchandise. All Class Packages & Auto-Renew Memberships are non-transferable. All class credits must be used by the original purchasing client. MEMBERSHIPS Contracts are billed on a monthly recurring basis. Contracts have a 3-month minimum commitment. To cancel your membership, email (link email) us 7 days prior to your renewal date. Memberships begin on the date of purchase. LOST & FOUND MegaFit by Lagree is NOT responsible for any lost or stolen items in the studio. Please email (link email) the studio for any items you may have left behind.